By the time winter rolls around, your boiler will be hard at work to keep your home warm, so summer is the time to check it's in full working order. A few quick checks and a bit of TLC can mean the difference between a boiler breakdown in the cold winter months and a comfortable home. In this article, we advise you on some steps you can take yourself to avoid any unwelcome emergencies…
Check your boiler pressure
Checking your boiler pressure regularly is important and can save you money in the long run.
If your boiler pressure isn't at the correct level, it can cause further issues and have a knock-on effect to other parts of your central heating system.
Every boiler is different. The manufacturer, the age, make or model will determine what level the pressure should be kept at, however, most manufacturers state that 1.3 is the optimum cold pressure. Some boilers have a digital display but most ones have a dial (usually located towards the front) with a 1 to 4 reading – and green and red sections. Green indicates the optimal pressure, red tells you that the pressure is not right.
The reading can fluctuate depending on whether the heating is on or off, so it's best to check the pressure when it's cold, as water expands and changes the dial as it gets hotter. If the heating is off when you check, the needle should be in the green section of the pressure dial.. Always refer to your boiler manual, as every boiler is different, however most manufacturers state that around 1.3 bar is ideal (roughly at the 10 o'clock position on the dial).
When the heating is on, the reading should be around 1.5 bar and 2 bar on the dial (roughly between 11 and 12:30 o'clock on a clock face). This area on the dial will normally be highlighted in green.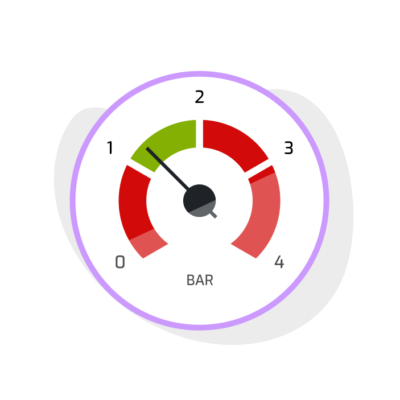 If the dial is below 1 and in the red section, the pressure is low and you should increase it – here's how.
If the dial is above 2 and in the red section, you will need to reduce the pressure – here's a guide on how to do that.
Check your radiators
Switch on your heating. Once your home is fully heated, check your radiators for cold spots. If your radiator is cold at the top and hot at the bottom, you may have to bleed them to remove trapped air. Check out our guide here on how to bleed your radiators and refill the systems.
Cold spots in your radiators may also indicate other issues that can lead to a boiler breakdown. If your heating system isn't properly maintained, you could be faced with a build-up of sludge, which causes poor performance and damaged pipes. Sludge tends to be present when the radiator takes a long time to get hot. If after 5 or 10 minutes the centre is not as hot as the top and bottom, sludge could be the reason. It is important to address the issue as soon as possible by power flushing your heating system. And in some cases, you may need to replace the radiator. You can find out more on the benefits of a power flush and how it works here.
Service your boiler
An annual boiler service conducted by a Gas Safe engineer is crucial to ensure your boiler is in full working order. Our engineer will start by checking the components of your boiler for any faults or wear. They will also look at your heating system to see if there are any obvious signs of damage to radiators and the pipework. You are usually required to book an annual boiler service to keep your manufacturer's warranty valid. At Hometree, all of our engineers are Gas Safe registered and will not only service your boiler, but we also remind you when you need your annual service to stay within your warranty.